Find your peace.
Nourish your spirit.
Create from your heart.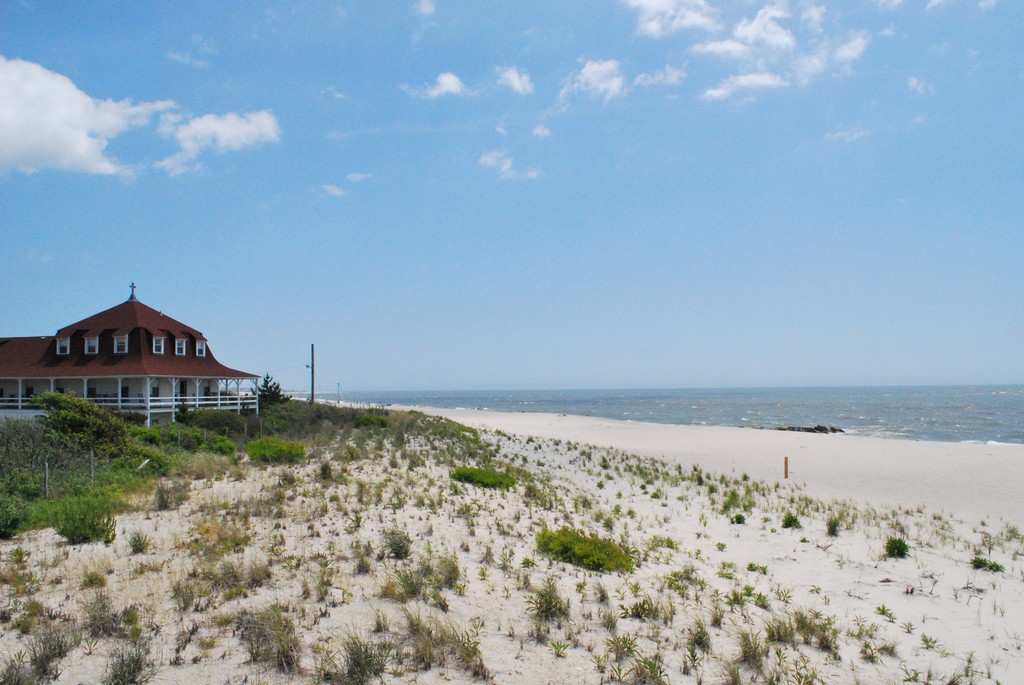 Saint Mary by the Sea is a Retreat House in beautiful Cape May Point, NJ. Creative Spirits Weekend, which takes place June 10-12, 2016, is a gift of time and transformation of ourselves and finding the beauty of God's creation through your artist eye.
Join other beginner and advanced artists for a weekend of learning, prayer, reflection, creativity, and making new friends.
Optional Day: Begin the weekend with a relaxed schedule on Friday June 10 with an early arrival 9:00 AM check-in, the Friday workshop is from 1:00 PM to 4:00 PM. Lunch included.
The weekend begins Friday June 10 after 4:00PM with an optional dinner on Friday evening. We will gather at 7:30 PM on Friday for our welcome and evening prayer. Participate in making a journal/drum circle.
Saturday June 11 offers a variety of workshops for beginner and advanced artists!

Check out our facebook page for pictures and updates!
Saturday Workshops 9am-4pm (lunch provided)

Watercolor with Jim Mc Farlane
Experience the beauty of transparent, flowing washes, and practice techniques that can help you takeyour paintings to the next level. Simplify the scene by focusing on shapes and learn to build on what nature gives us.
Mixed Media Mono printing with Christine Zaccardi
Be adventurous and experiment with mixed media mono printing on gel plates without a press. Incorporate any found textures with different surfaces and paint to create a stack of magical prints that can be further manipulated with other medias. Expand your creativity by layering over your prints, incorporating nature with them, journaling over them and tearing them for use in your collage art pieces.
Visual Improvisation Collage Workshop with Carol King Hood
Discover a whole new world of possibilities, combiningn the elements of paper, water based paint and glue. We will be creating beautiful, color filled works on paper simply by tearing paper and using our imagination. This is a hands on workshop back by popular demand. Come prepared to free your spirit.
The Art of Journaling
Art journaling is a prayer form in which, "simple art, poetry, and journal forms, express of respond to prayer." It can be one of the many avenues that support us in prayer and in journeying with God and ourselves. Allow your creative spirit to be open. Come as you are.
The Zen of Seeing: Seeing/Drawing: As Mediatation based on Frederick Franck's Book Maryanne Zakreski, SSJ
This is really not a workshop about creating "Art". It's about reverence of life for those who would use a sketchpad instead of a prayer book. This is a workshop that leads one the *why of drawing*. What's important is the act of drawing itself, the quiet contemplation of the thing drawn that engages you fully in the moment and opens your eyes and your heart to the world around you. Have you ever seen-really seen-a sparrow, a turnip, your child's face?
Exploring the Creative Process through Abstract Experssionism with Cathie Meighan, SSJ
The workshop will focus on the creative process in the style of abstract expressionism. Using Joanie Mitchell's staining process to begin the process involves an interior response to the physical process of making various marks made on the canvas with alternative tools; pushing and pulling paint. It is a holistic response to the creative process.
Gifts from the Sea Worskhop with Trish McMonagle and Terri Amig (full day session)
This workshop will be based on our own observations and reflections inspird by Anne Morrow Lindbergh's seminal book, "A Gift from the Sea". The book is about her own relections in a time of solitude while at her beach cottage. She draws parallels to her life as a woman from the details in her beach finds or gifts. We will begin the workshop with a brief discussion of some of the highlights of the book. After this we will take a long walk on the beach to make our own discoveries. We will bring them back and take some time to examine our finds.
After lunch, we will take the next two hours drawing and writing about our discoveries by carefully examining each detail and relating it to aspects of our lives. The last hour will be an open discussion of what we have discovered.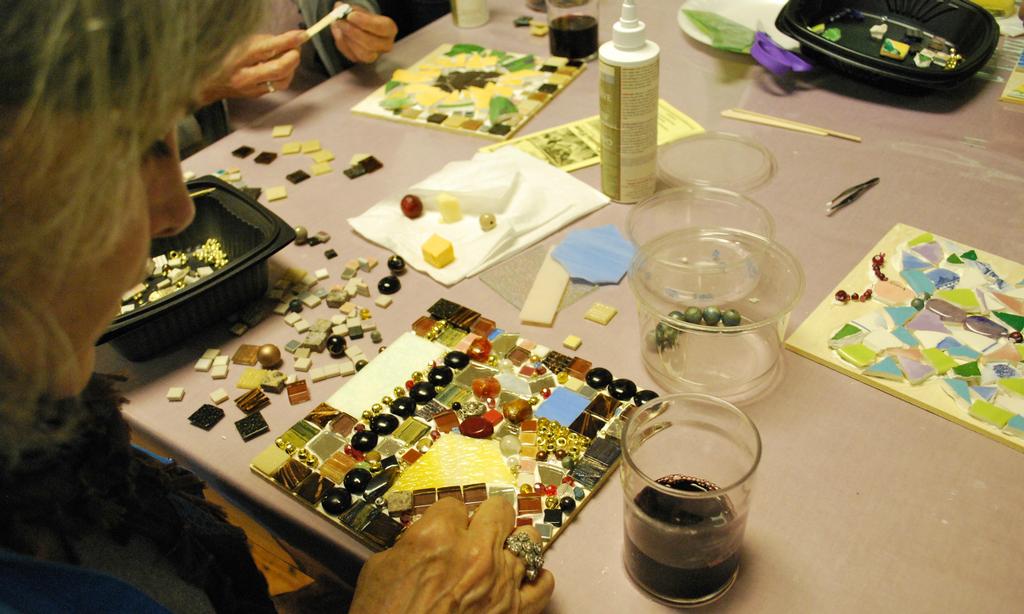 Creative Evening Gathering with Mosaics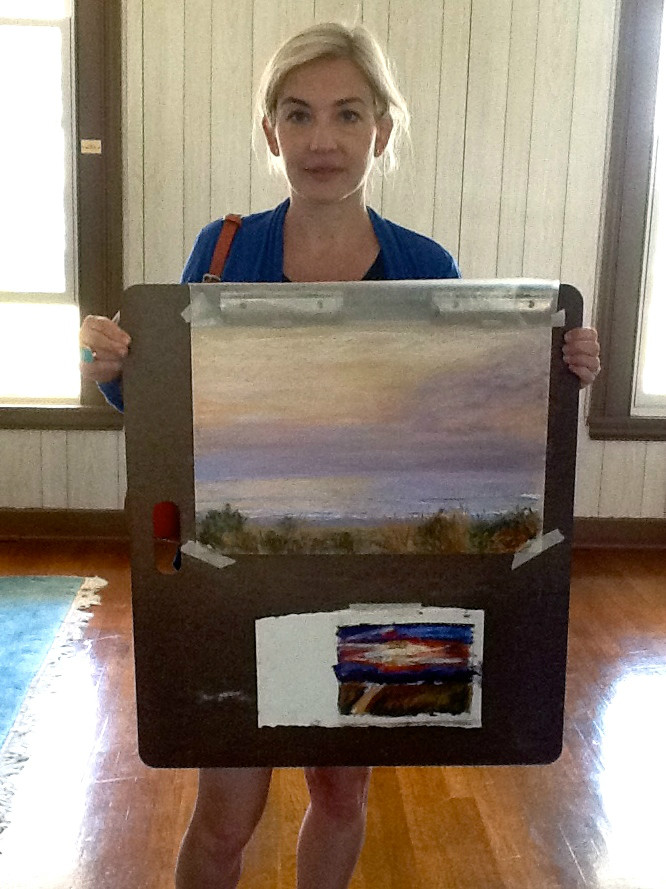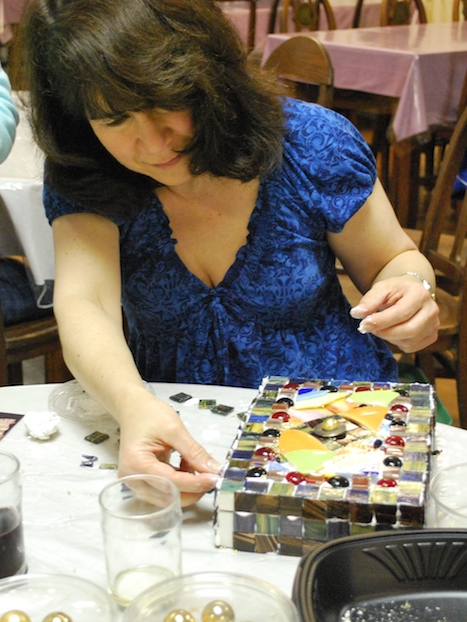 Pastel Workshop Mosaic Workshop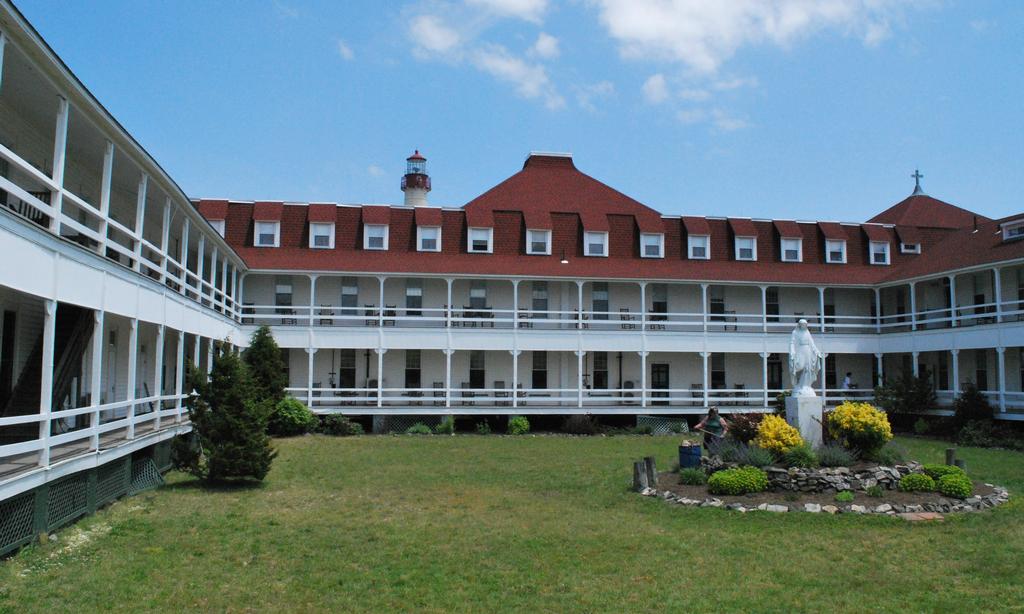 Beautiful Facility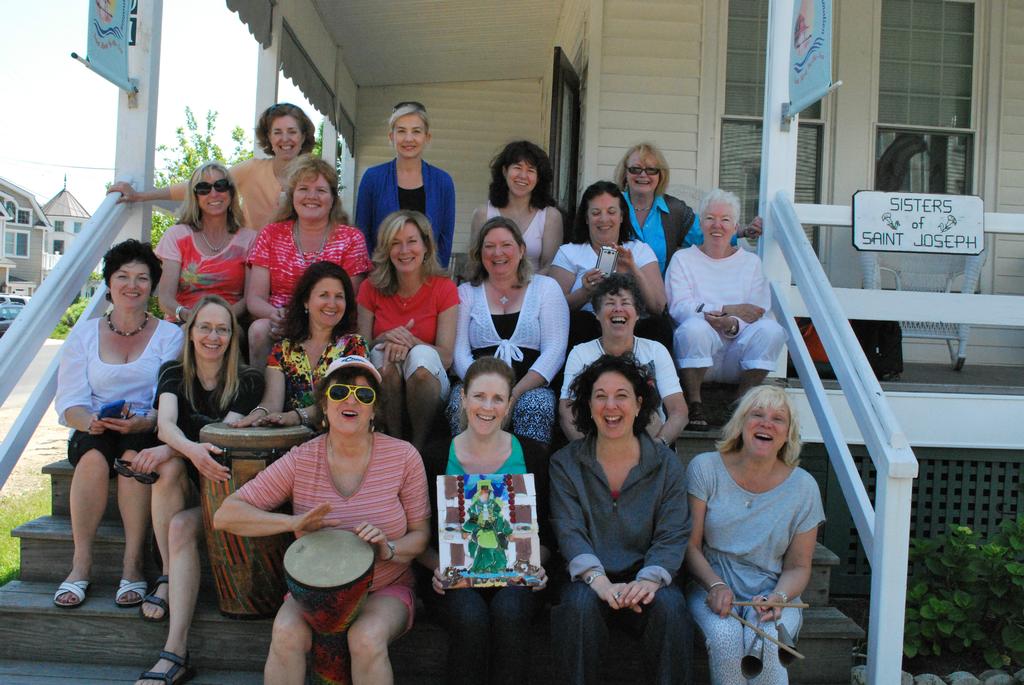 Schedule of Events
Friday
Arrive by noon - If attending optional Friday Workshop
Workshop - 1pm - 4 pm (lunch provided)
Arrive at 4 PM - CHECK IN
Dinner optional: on premise or out to eat
7:30 PM Welcome Evening Prayer
Journaling/Music
Saturday
7:00 AM - Tai Chi/Yoga/Labyrinth
7:00-9:00 AM - Breakfast
9:00-12:00 PM Workshops AM session
- Lunch Break -
1:00-4:00 PM Workshops PM session
5:30 PM - Dinner
7:00 PM Liturgy
8:00 PM Evening Gathering
Sunday
9:00 AM Gathering the Graces Sharing Ritual
10:00 AM Brunch
Registration Information
Sign up for Creative Spirits Weekend:
1) Visit our calendar of events and find June 10
2) Click "Sign Up" and filll out registration form
3) Be sure to list any special dietary or medical information
Additional Information:
- Bed linens and towels are provided
- Dress is casual. Bring layers
- You are free to bring your own snacks and refreshments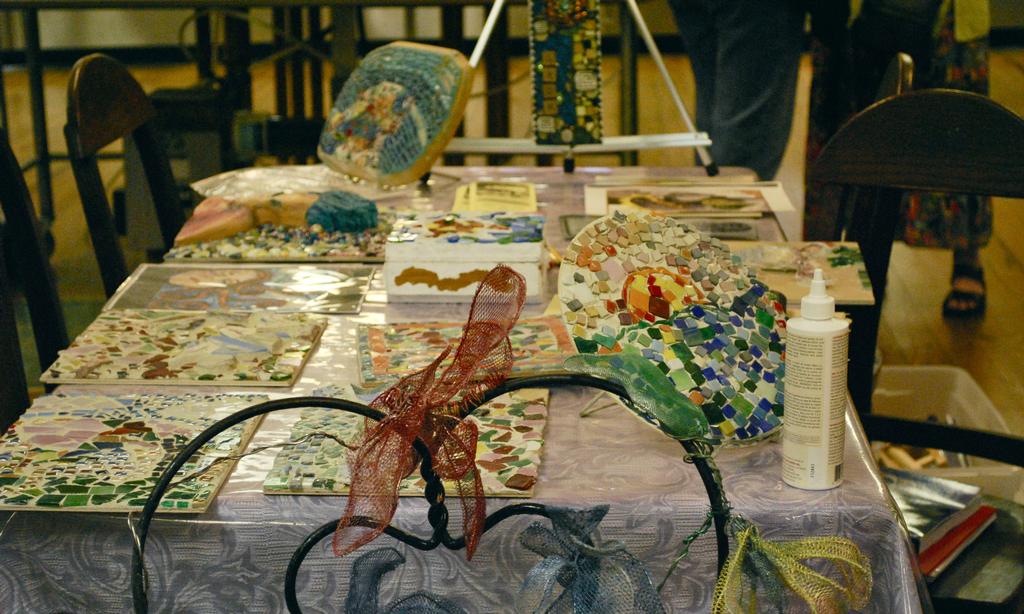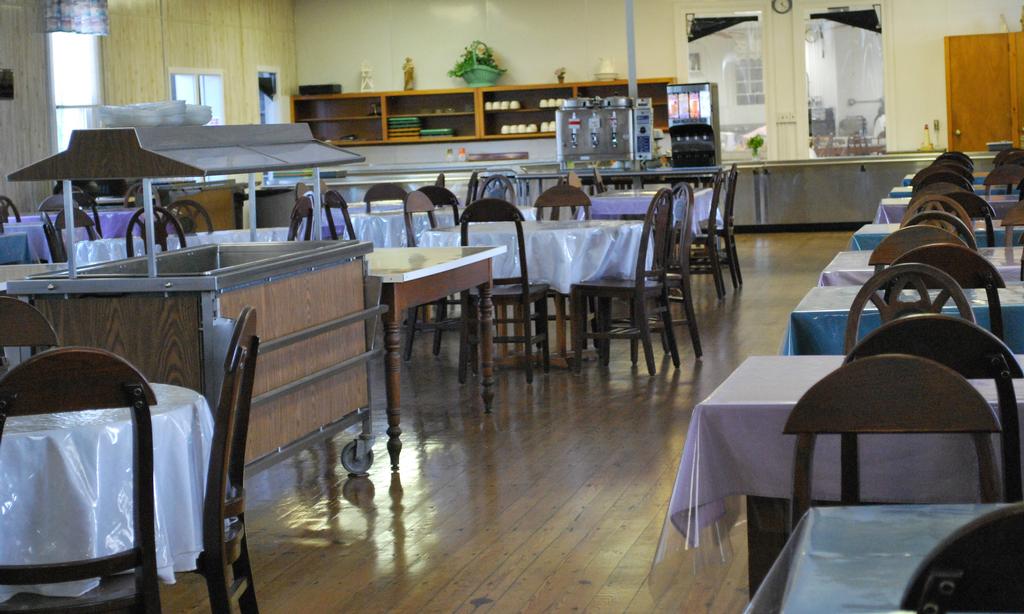 Dining Hall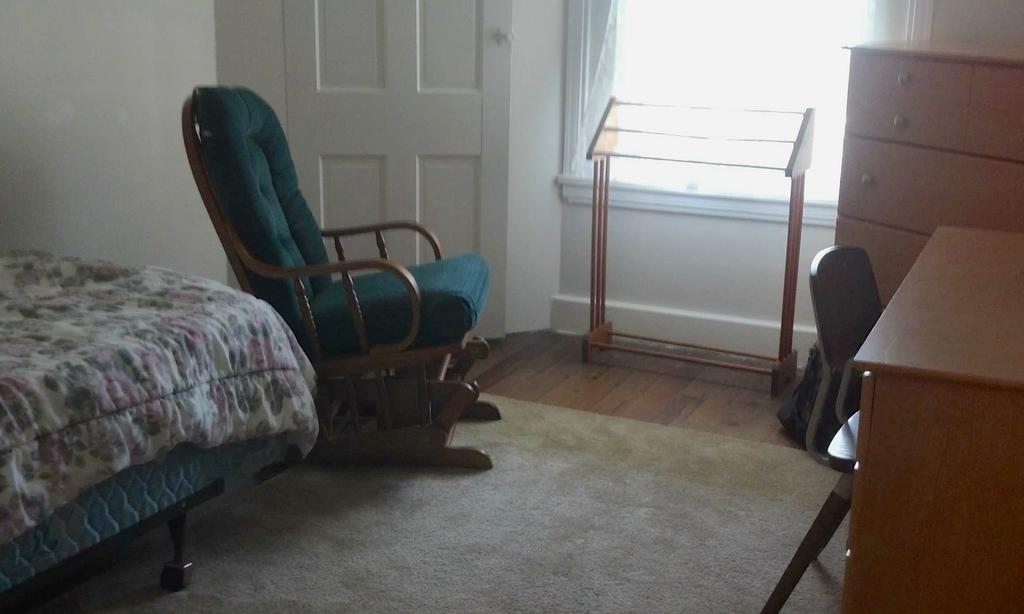 Room Interior
Right on the beach!